Carcharodontosaurids (from the Greek Carcharodontosauros: "shark-toothed lizards") were a group of carnivorous theropod dinosaurs. In 1931 Ernst Stromer named Carcharodontosauridae as a family, in modern paleontology this name indicates a clade within Carnosauria. Carcharodontosaurids included some of the largest land predators ever known: Giganotosaurus, Mapusaurus, Carcharodontosaurus, and Tyrannotitan all rivaled or exceeded Tyrannosaurus in size.
Carcharadontosaurids were Carnosaurs, cousins and descendants of Jurassic carnivores like Allosaurus and Australovenator (which actually lived during the Cretaceous). Just like Allosaurus, carcharodontosaurids had thin, blade-like teeth to slice through flesh, not thick, rounded spikes able to punch through bone, as Tyranosaurus and Daspletosaurus did. They also had better developed forelimbs with powerful claws. Their primary prey were giant sauropods like Argentinosaurus, and when they died out, so did the carcharodontosaurids.
In Walking with... Series
Edit
This episode featured a pack of gigantosaurs as they stalked and hunted a herd of argentinosaurs. In the last third of the episode they brought down a juvenile sauropod.
Mapusaurus
, a carcharodontosaurid, is one of the viewable dinosaurs in this app.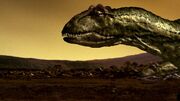 Ad blocker interference detected!
Wikia is a free-to-use site that makes money from advertising. We have a modified experience for viewers using ad blockers

Wikia is not accessible if you've made further modifications. Remove the custom ad blocker rule(s) and the page will load as expected.