This article is about the episode, you may be looking for the soundtrack
Giant of the Skies (episode)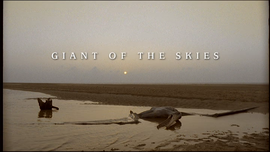 </span>

Giant of the Skies is the fourth episode of Walking with Dinosaurs.
Full Synopsis

Edit
The episode takes place 127 million years ago. It stars an elderly male Ornithocheirus, a large Pterosaur, who is on his way back from South America to the island of Cantabria in Europe to mate. He passes a nesting colony of Tapejara. He reaches the north tip of South America and crosses sea to North America. He passes a herd of Iguanodon who were migrating along a beach. He travels from America to Europe across the young Atlantic Ocean. He reaches a European island, off the coast of Britain, which in the book of the series is named Cornubia. He passes another herd of Iguanodon, who are being preyed on by a pack of Utahraptor. Eventually, the Ornithocheirus reaches his breeding site, but fails to get a mate as he cannot land in the best place in the middle of the breeding site, because on the way he had been delayed (by having to shelter from a storm under a cliff overhang) and the site was taken. In the end, he perishes on a beach of hunger, exhaustion, heat stress and old age. However, nature is seldom wasteful as he and others become food for the next generation.
Animals Featured

Edit
Gallery==
This episode was also known as "Beneath the Giant's Wings".

This is the only episode of Walking with Dinosaurs to have a pterosaur as the main focus.
The Utahraptor did not live in Europe, as no fossil of Utahraptor has been found outside of North America.

The Onithocheirus is too big, the wingspan of this animal was likely about 7 meters

The Americans Iguanodons are Dakotatodon
Broadcast

Edit
Original airdate

Edit
25 October 1999 20.30 BBC One
26 October 1999 18.30 BBC Choice

30 October 1999 20.00 BBC Choice

31 October 1999 16.15 BBC One

31 October 1999 19.30 BBC Choice

4 December 1999 9.20 BBC Knowledge

19 August 2000 20.05 BBC One

29 January 2003 19.00 BBC Four

9 March 2004 2.30 BBC One

21 October 2006 20.00 BBC Three
http://genome.ch.bbc.co.uk/search/0/20?order=asc&media=tv&adv=1&yf=1999&q=walking+with+dinosaurs#search