Great Journey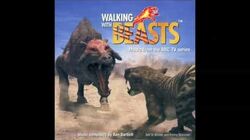 Great Journey is a piece used for the Walking with Beasts soundtrack, and also one of the tracks not included in the soundtrack CD.
In the Series
Edit
Next of Kin It played briefly when the group of Australopithecus were leaving their former territory.        
Ad blocker interference detected!
Wikia is a free-to-use site that makes money from advertising. We have a modified experience for viewers using ad blockers

Wikia is not accessible if you've made further modifications. Remove the custom ad blocker rule(s) and the page will load as expected.