Home
Talk

63
513pages on
this wiki
Article of the Month (April 2014)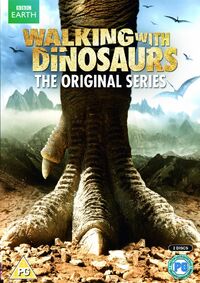 Walking With Dinosaurs is a six-part dinosaur television documentary mini-series that was produced by the BBC, narrated by Kenneth Branagh, and first aired in the United Kingdom in 1999. The series was subsequently aired in the United States on the Discovery Channel with the Branagh's narration replaced with that of Avery Brooks. The series uses computer-generated imagery and animatronics to recreate the reign of the dinosaurs, beginning in the late Triassic period and concluding in the late Cretaceous period at the K-T boundary mass extinction event, 66 million years ago.

The Guinness Book of World Records reported that Walking With Dinosaurs was the most expensive documentary series per minute ever made.

Imagine you could witness a prehistoric sunset - imagine you are watching insectivorous pterosaurs chase moths in the moist evening air and bull Triceratops lock horns over a young female. This is no longer a dream.

Walking With Dinosaurs makes that distant world as real and natural as images from today's Serengeti. Tracing the 160 million-year history of dinosaurs, from their first appearances to their abrupt demise, this series marks a watershed in television imagery.

Classic natural history techniques, leading edge computer technology and animatronics combined with the latest scientific findings, recreate the sights and sounds of an endlessly fascinating era. Walking With Dinosaurs brings to life the mystery and excitement of the age when these reptiles roamed our planet.
---
Read more featured articles! • Vote for next month's featured article! • Previous Featured Articles
Animals
---
Wiki News
Hello all.  It has recently come to my attention that many of the articles about taxonomic groups have the taxonomic group names italicised.  I would like to address the fact that only programmes names and genera should be italicised.  Having taxonomic group names in italics is completely unnecessary.

Another issue I want to address while I'm at it: facts.  There have been many edit wars about correct facts and outdated facts.  I was wondering if we do what the Primeval Wiki has done.  Their fac…

Read more >

Hello editors, new and old!  I have recently been sent a question from a user about the recent (and drastic) changes to the wiki.  That person has said that the wiki is too confusing to new editors.  Let me be the first to assure you that there are wiki a thousand times more confusing than this one!  Let me tell you how to edit this wiki properly!




One of the key aspects of a wiki apart from editing is presentation.  Before the changes the wiki used to look like the pictures shown on each side.  …


Read more >
Forum Activity
Featured Images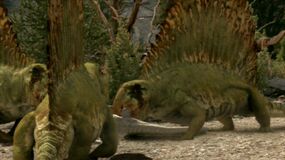 - A group of Dimetrodon eating an Edaphosaurus carcass.[1]
Need help?
If you are stuck and need help editing, contact Walking With Wikis' two admins:
Collector1
and
Bacner
.
Create an Article!
Here you can create an article. First, please make sure the article you are creating already exists and also make sure it is relevant to the wiki's topic! DO NOT make any spam articles or there will be consequences! Thank you!
Monthly poll!
What is your favourite creature from The Ballad of Big Al?