Home
Talk

63
500pages on
this wiki
Article of the Month (March 2014)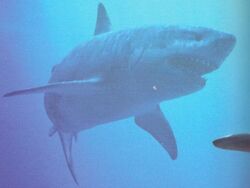 Megalodon were giant prehistoric sharks featured in Sea Monsters.

Superficially, Megalodon resembled modern great white sharks, but with the overall body length of 17-23 meters, they had jaws with a 2 to 3-metre-wide opening span, studded with teeth that are quite different from the modern white sharks, up to 5-8.5 inches in length, and could swallow them whole. Weighing up to 93 tons, Megalodon was the largest shark of all time and the biggest carnivorous fish ever to roam the seas, weighing as much as the Argentinosaurus!

Being so big, Megalodon hunted practically everything that lived in the late Cenozoic oceans - dolphins, primitive whales, manatees, etc. The second and third episodes of Sea Monsters has examined this feature in length, examining the hunting techniques of a juvenile Megalodon hunting an artificial Odobenocetops and then an adult Megalodon hunting a larger prehistoric whale as well.
---
Read more featured articles! • Vote for next month's featured article!
Animals
---
Wiki News
Hello all.  It has recently come to my attention that many of the articles about taxonomic groups have the taxonomic group names italicised.  I would like to address the fact that only programmes names and genera should be italicised.  Having taxonomic group names in italics is completely unnecessary.

Another issue I want to address while I'm at it: facts.  There have been many edit wars about correct facts and outdated facts.  I was wondering if we do what the Primeval Wiki has done.  Their fac…

Read more >

Hello editors, new and old!  I have recently been sent a question from a user about the recent (and drastic) changes to the wiki.  That person has said that the wiki is too confusing to new editors.  Let me be the first to assure you that there are wiki a thousand times more confusing than this one!  Let me tell you how to edit this wiki properly!




One of the key aspects of a wiki apart from editing is presentation.  Before the changes the wiki used to look like the pictures shown on each side.  …


Read more >
Forum Activity
Featured Images
- A herd of Woolly mammoth in a canyon.[1]
Need help?
Create an Article!
Here you can create an article. First, please make sure the article you are creating already exists and also make sure it is relevant to the wiki's topic! DO NOT make any spam articles or there will be consequences! Thank you!
Monthly poll!
What is your favourite creature from The Ballad of Big Al?