Home
Talk

63
565pages on
this wiki
Article of the Month (August 2014)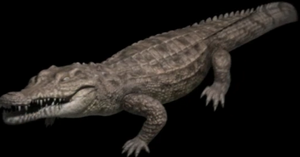 Parasuchus, ("near crocodile"), was a prehistoric reptile found in India.

Parasuchus would have acted and resembled a modern-day crocodilian, it even had the hard plating called osteoderms that crocodilians. But it was not what it seemed. Instead, it was a phytosaur: A sister group to archosaurs (dinosaurs, crocodilians, and birds).

The main characteristic that defines phytosaurs like Parasuchus from Crocodilia is the nostrils being close to the top of its head, as opposed to them being at the top of the snout.

It was one of the smallest members of the group, being only 2 meters in length compared to other phytosaurs that exceed its size.

Parasuchus' coloration was very similar to that of the Saltwater Crocodile.
---
Read more featured articles! • Vote for next month's featured article! • Previous featured articles!
What is this wiki about?

This wiki is dedicated to the Walking With... trilogy and its specials which were made by Tim Haines and Jasper James. The trilogy's success started in April 1999 when Walking With Dinosaurs first aired in the UK. A special - The Ballad Of Big Al - aired a year later. Due to the huge success of the series, a sequel - Walking With Beasts - was produced and aired in 2001. Another special aired a year later called Chased by Dinosaurs. It was then followed by a less popular series Walking With Cavemen and a sequel to Chased by Dinosaurs - Sea Monsters. Two years later, a prequel to Walking With Dinosaurs - Walking With Monsters - aired.

In 2013, trailers for a film based on Walking With Dinosaurs were released. The film is called Walking With Dinosaurs 3D. In December, the film was released in theaters.

Please bare in mind that some of the facts presented in Walking with... are outdated and/or incorrect. Do not use this wiki as a dinosaur encyclopedia.
Forum Activity
Latest Release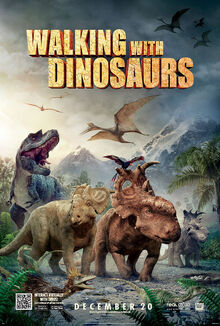 Walking with Dinosaurs: The 3D Movie is a 2013 film named after the 1999 BBC documentary series with the same name. It was released in theaters on 21 December 2013.

Unlike the TV series, the dinosaurs featured in the film were voiced by actors and were fully computer animated with no animatronics. However, the sets filmed live action. The goal is to make audiences feel like they've gone back in time.

Set in North America in the late Cretaceous period, the film follows the lives of three Pachyrhinosaurus named Patchi, Scowler and Juniper from infancy to adulthood. Their story is related by Alex the Alexornis who has a symbolic relationship with the trio.  Their enemy is a Gorgosaurus named Gorgon, a fearless hunter.
Featured Video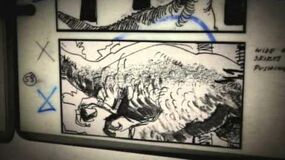 Need help?
Create an Article!
Here you can create an article. First, please make sure the article you are creating already exists and also make sure it is relevant to the wiki's topic! DO NOT make any spam articles or there will be consequences! Thank you!
Monthly poll!
Would you like to see another "Walking with..." programme?