Making Fossils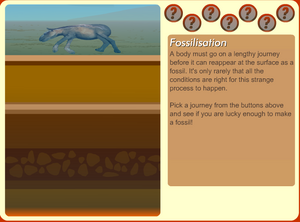 | | |
| --- | --- |
| No. of players | 1 |
| Type | Simulation |
| Platforms | Online |
| Availability | No |
Making Fossils is an online simulation game about fossilization of dead animals.
The game was originally on the BBC website but has since been removed and replaced by the fossil page of BBC Nature. This was done because the Nature page had a more up to date depiction of how fossils are formed.
Ad blocker interference detected!
Wikia is a free-to-use site that makes money from advertising. We have a modified experience for viewers using ad blockers

Wikia is not accessible if you've made further modifications. Remove the custom ad blocker rule(s) and the page will load as expected.