Muttaburrasaurus
Talk

0
329pages on
this wiki
Muttaburrasaurus is a member of a large Iguanodont family that ruled during the Cretaceous period. However, what makes Muttaburrasaurus special is that it lives in sub-polar rain forests on what will one day become Australian continent. Unlike most of the Iguanodonts who preferred living in open woodland, this animal lived in the Anytarctic/Australian jungle, where its coloration would've blend in, as shown in the series.
Even though fully grown muttaburrasaurs did not have any natural enemies, the hurt or older dinosaurs that could not defend against predators easily became prey of Polar Allosaurus, a predator also inhabiting woods around polar regions.
The largest of all the Australian summer migrant dinosaurs, these dinosaurs lived in huge herds. They migrated every year a distance of 800 kilometers down the coast of Australia, following the sun to the South to Antarctica to find secure sites to lay their eggs. Each massive adult weighed about three tons…and could pluck food from branches several meters off the ground. While feeding, the dinosaurs keptin touch using the specially adapted noses to produce a range of trumpeting calls. These herbivores were slow, but they found safety in size and numbers. Occasionally, these giant migrants got lost in the Antarctic forests.
Like most Iguanodonts, this one can also move on two feet. One of most distinguishing features of this animal is an inflatable sack at the nasal region, which males use for sexual display during mating seasons. Most of eerie sounds of polar forests are from large herds of muttaburrasaurs trampling across landscape.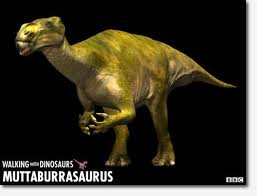 Appearances
Edit