This article is not part of the Walking with... universe.
This article covers a subject that is part of the real world, and thus should not be taken as a part of the Walking with... universe.
Nigel Marven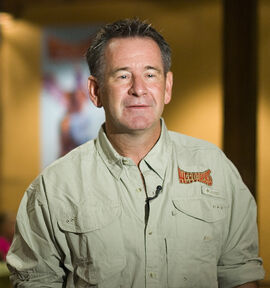 | | |
| --- | --- |
| Date of birth | 27 November 1960 |
| Place of birth | London, England |
Nigel Marven is a British wildlife presenter, television producer, author and ornithologist. He has presented in several Impossible Pictures programmes, which includes Chased by Dinosaurs, Sea Monsters, Prehistoric Park and Primeval.
He has also co-written the companion book Sea Monsters: Prehistoric Predators of the Deep.
Biography
Edit
Nigel Marven played himself as the presenter of Chased by Dinosaurs and Sea Monsters. He studied botany at Bristol University until the age of 22 when he left to begin his career at the BBC Natural History Unit in Bristol. Over the following years he worked firstly as a wildlife documentary researcher for such programmes as My Family and Other Animals then went on to produce such series as The Land of the Russian Bear. He enjoyed a 12-year professional collaboration with David Attenborough whom he holds in high esteem.
In 1998, he moved to ITV where, to his surprise, he found himself being asked to present wildlife documentaries as well as producing them.
Ad blocker interference detected!
Wikia is a free-to-use site that makes money from advertising. We have a modified experience for viewers using ad blockers

Wikia is not accessible if you've made further modifications. Remove the custom ad blocker rule(s) and the page will load as expected.