Palaeocene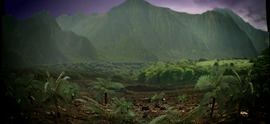 The Paleocene epoch was the first period of the Palaeogene, after the Mesozoic and before the Eocene. It lasted for about 8 million years and ended 58 +/- 4 mya.
The Palaeocene was a period when a number of organic life forms, typical for the Cainozoic, began to form. The mammals included taeniodonts (extinct), tillodonts (extinct), the colugo, bats, Xenarthrans, rodents, hoofed mammals. The overall number of the mammal families grew from 20 to 50.
The sauropsids were memorable by the extinct champsosaurs.
The invertebrates had not yet recovered after the K/T extinction and their number is still relatively low.
Among the plants, the deciduous species dominate, but mostly they are still ancient, pre-K/T families. The elements of the modern flora only begin to appear.
Ad blocker interference detected!
Wikia is a free-to-use site that makes money from advertising. We have a modified experience for viewers using ad blockers

Wikia is not accessible if you've made further modifications. Remove the custom ad blocker rule(s) and the page will load as expected.