"
This far south, the first day of spring lasts only a few minutes; But it triggers the start of an astonishing story of survival through the polar year.
"

– Kenneth Branaugh

Spirits of the Ice Forest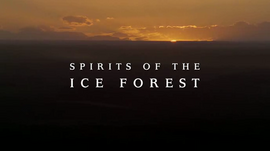 Spirits of the Ice Forest is the fifth episode of Walking with Dinosaurs, set in the middle Cretaceous epoch, roughly 106 MYA.
Full synopsis
Edit
This episode focuses on a flock of Leaellynasaura who are trying to survive the freezing winter and breed in the summer. The episode runs from end of winter to the next end of winter. At the beginning a female Koolasuchus eats a male Leaellynasaura which had died in the winter. During the summer a female dwarf allosaur hunts a male Leaellynasaura and a young Muttaburrasaurus. The Leaellynasaura usually escape, but during the noise and trampling and confusion caused by the Muttaburrasaurus migrating away north for the winter, the allosaur catches and eats the matriarch of the Leaellynasaura herd. A Koolasuchus is also on the hunt for the Leaellynasaura but the dinosaurs are too fast for the giant amphibians to catch even in the water. The episode ends in winter, as the Leaellynasaura have to settle down for another semi-hibernation period.
Appearances
Edit
Australovenator (identified as a Polar Allosaur, identified on the site as Australovenator)
Steropodon (identified as mammal, revealed in website and book, live-acted by a coati)
Tuatara (live acted)
Weta (live acted)
Mosquito (live acted)
This episode is also known as Spirits of the Silent Forests.
The Brachiosaurus Music From Time Of The Titans is Used For The Arrival Of The Muttaburrsarus.
Broadcast
Edit
Original airdate
Edit
1 November 1999 20.30 BBC One
2 November 1999 18.30 BBC Choice
6 November 1999 20.00 BBC Choice
7 November 1999 16.25 BBC One
7 November 1999 19.30 BBC Choice
4 December 1999 9.50 BBC Knowledge
26 August 2000 19.05 BBC One
5 February 2003 19.00 BBC Four
16 March 2004 2.15 BBC One
28 October 2006 20.00 BBC Three
http://genome.ch.bbc.co.uk/search/0/20?order=asc&media=tv&adv=1&yf=1999&q=walking+with+dinosaurs#search