Tenontosaurus was a hyphsilodont dinosaur from the early Cretaceous North America.
Tenontosaurus was a dinosaur who shared the traits of both iguanodonts (i.e. Iguanodon) and smaller hypsilophodonts (i.e. Leaellynasaura), but it indeed the most basal iguanodont. It reached up to 6.5 m in length and in many ways it was the cow of the Cretaceous. It didn't have many means of self-defence besides its size and relatively powerful tail - longer than the rest of its body and built like a two-by-four board - and it was popular prey for many carnivores, including Acrocanthosaurus and Dromaeosaurus, because of its relatively small size.
In Walking with... Series
Edit
Tenontosaurus
is one of the viewable dinosaurs in the app. It is also seen being attacked by a
Deinonychus
.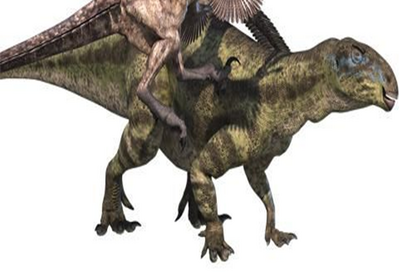 Ad blocker interference detected!
Wikia is a free-to-use site that makes money from advertising. We have a modified experience for viewers using ad blockers

Wikia is not accessible if you've made further modifications. Remove the custom ad blocker rule(s) and the page will load as expected.