Therocephalian
Talk

1
329pages on
this wiki
Creature information
Scientific name :
Unkown. Possibly Euchambersia
Time period :
Early Triassic
Primary diet :
Carnivore
In the series
Fatalities caused :
One Lystrosaurus
Appearances :
Walking with Monsters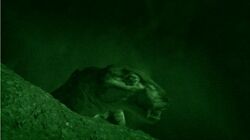 Therocephalians were ancient mammal-like reptiles that lived
during the
Permian
and the
Triassic
epocs and which were related both to
gorgonopsids
and
cynodonts
. They were featured in the last episode of
Walking with Monsters
where they hunted
lystrosaurs
(and also the episode 4x04 of
Primeval
). It later then evolved into a Cynodont in the Mid-Triassic.
Vicious nocturnal hunters, these predators didn't rely on power to make a kill. Their attacks were swift and at first appeared unsuccessful, but these predators had a secret weapon: a venomous bite, with venom being more lethal and more powerful than a black mamba's, which could flood their prey's blood stream.
In the show, they were featured possessing venomous bites, supposedly more powerful than the modern venomous snakes, such as the black mamba. Still, only one species of therocephalian has been deduced to be venomous, i.e. Euchambersia, which would probably mean that the one appearing in Walking With Monsters was one. However, the presence of the venom in those mammal-like reptiles is speculation, as that cannot be proven via fossilized bones.
Appearances
Edit