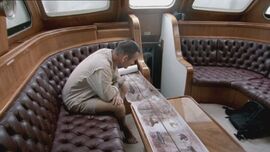 The time map is a large map of all the geological periods of Earth's history. This map was used by Nigel Marven to help him search for the seven deadliest seas ever.
The specific use of the time map is unknown. Its most clear use was to give Nigel a guide to all of the geological periods and the organisms that existed during that time zone.
It is also speculated that the time map was also used as a mean of time travel as no time-traveling technology was shown in Sea Monsters.
Creatures on the Time Map
Edit
This list is from the Ordovician and onwards and is from Sea Monsters: Prehistoric Predators of the Deep.
Ad blocker interference detected!
Wikia is a free-to-use site that makes money from advertising. We have a modified experience for viewers using ad blockers

Wikia is not accessible if you've made further modifications. Remove the custom ad blocker rule(s) and the page will load as expected.