Walking with Beasts: Survival!

Writer(s)

Publisher

Penguin Character Books Ltd

Release Date

1 November 2001

Format

Paperback Book, 48 Pages

Price

ISBN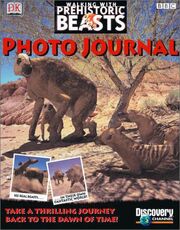 Walking with Beasts: Survival!, also know as the Walking with Prehistoric Beasts Photo Journal in the US, is a paperback children's book to the original Walking with Beasts TV series. It was published on 1 November 2001 by Penguin Character Books Ltd and had 48 pages.
External links
Edit
Ad blocker interference detected!
Wikia is a free-to-use site that makes money from advertising. We have a modified experience for viewers using ad blockers

Wikia is not accessible if you've made further modifications. Remove the custom ad blocker rule(s) and the page will load as expected.