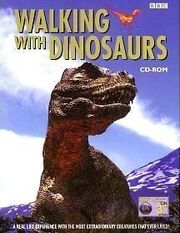 Walking with Dinosaurs: CD-ROM was a PC CD-ROM.
Manufacturer's Description
Edit
Explore interactive landscapes and see dinosaurs hunting, grazing and running in their natural habitats.
Use your magnifying glass to discover details of dinosaur life. Collect plants, dinosaurs and animals from different landscapes and build a food chain.
Search for missing bones and re-build dinosaur skeletons.
Trace the evolution of dinosaurs. Get pre-historic on your PC with dinosaur sounds, wallpapers and screensavers.
And re-visit your favourite clips from the television series in the Walking with Dinosaurs video browser.
A 'must have' for anyone who loved the television series.
Product Features
Edit
Dinosaur Panoramas
Food web
Fossil hunt
Family tree
Fact file
Desktop customiser and video browser
Reception
Edit
DiscoverSchool.com rated the CD-ROM 4/5 stars.[1]
References
Edit
Ad blocker interference detected!
Wikia is a free-to-use site that makes money from advertising. We have a modified experience for viewers using ad blockers

Wikia is not accessible if you've made further modifications. Remove the custom ad blocker rule(s) and the page will load as expected.