Walking with Dinosaurs: The Evidence

Writer(s)

Publisher

BBC Books

Release Date

28 September 2000

Format

Paperback Book, 176 Pages

Price

ISBN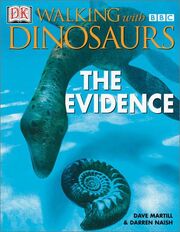 Walking with Dinosaurs: The Evidence is a book written by Dave Martill and Darren Naish. It was published on 28 September 2000 by BBC Books and had 176 pages. The book explains the content of the programme Walking with Dinosaurs and details the evidence behind it, such as the behaviour and range of the creatures featured.
External links
Edit
Ad blocker interference detected!
Wikia is a free-to-use site that makes money from advertising. We have a modified experience for viewers using ad blockers

Wikia is not accessible if you've made further modifications. Remove the custom ad blocker rule(s) and the page will load as expected.