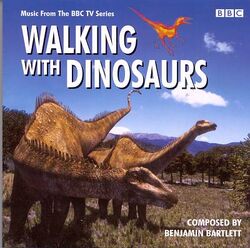 Walking with Dinosaurs is the soundtrack to the series of the same name. It was composed by Ben Bartlett and was performed by the BBC Concert Orchestra.[1] It was released April 11, 2000.
Track listing
Edit
There is a total of 22 tracks on the CD and the CD as a whole has a run time of 48 minutes.
Walking with Dinosaurs (featuring Kenneth Branagh) - 1:13
The Ankylosaurus - 0:55
Death of the Postosuchus - 2:28
Survival of the Cynodonts - 1:16
Torosaurus Lock Horns - 2:58
Giant of the Skies - 3:49
Flight of the Ornithocheirus - 2:25
Deadly Nightscape - 1:53
Time of the Titans - 3:37
Escape of the Podlets - 0:47
Jurassic Forest - 0:53

Canyon of Terror - 2:53
Islands of Green - 3:57
The Cruel Sea - 6:08
Spirits of the Ice Forest - 1:45
Antarctic Spring - 3:19
Sleeping Leaellynasaura - 0:56
Secert Flight - 1:48
Tyrannosaurus - 2:58
Triassic Water - 1:26
End Credits - 0:53
Reception
Edit
Through AllMusic gave the soundtrack 2/5 stars,[2] listeners reception of the soundtrack were highly positive. The soundtrack is very well liked by fans of the Walking with... series and dinosaur fans alike and this praise still continues today.
External links
Edit
References
Edit
↑ BBC: Science and Nature: TV Series - Sound (March 22, 2005) Retrieved from https://web.archive.org/web/20050322124555/http://www.bbc.co.uk/dinosaurs/tv_series/sound_2.shtml
Ad blocker interference detected!
Wikia is a free-to-use site that makes money from advertising. We have a modified experience for viewers using ad blockers

Wikia is not accessible if you've made further modifications. Remove the custom ad blocker rule(s) and the page will load as expected.